DIGITAL CASE STUDY OF BATA FOOTWEAR
Bata footwear is the largest shoemaker company in the world by volume, selling 1 million shoes every day. Bata is a well-known shoe producer and vendor in the entire region. Bata's success is based not only on their innovative design, but also thanks to great communication with customers. The company is organized into three business units: Bata, Bata Industrials and AW Lab. The company has a retail presence of over 5300 retail stores in more than 70 countries and production facilities in 18 countries.
As we all know every company have its up and down graph. bata too face some challenges to increase brand value and image and what strategy they apply to gain its market value among its competitor discuss about its challenges ,strategies and outcomes .
OBJECTIVE : 
They had to find an innovative way to communicate with users
Attract the users' attention and to increase in-store traffic (that's where customers could use the promotion).
STRATEGY :
Bata chose an interactive mobile campaign on ClickAttack's mobile advertising network to complete these goals.
 Bata  used it as the delivery channel of Bata's promotional message directly into the hands of the users in the form of a digital discount coupon.
The creative solution was delivered in the form of a HTML5 mobile banner, which demanded user's interaction. The mobile ad was represented as a birthday present box in which the discount coupon was hidden. The users had to open the box by sliding the finger across the screen of the mobile phone.
After the coupon was used, the users would see the amount of the discount and the terms and conditions. At the same time, the mobile ad enabled the download of the coupon in the digital form directly to the mobile device, which they could later use in every Bata store.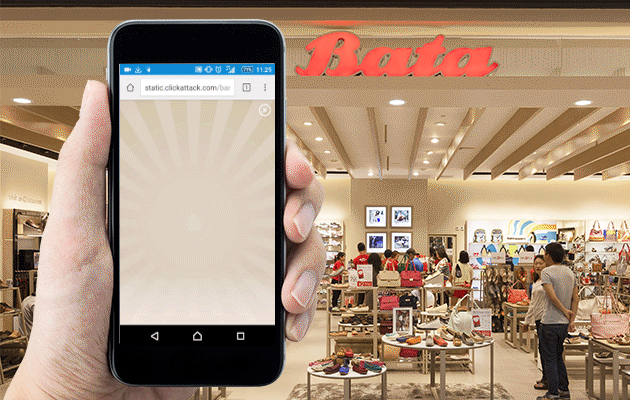 The idea behind the interaction was to inspire the clients to actively engage with the campaign in order to remember it. At the same time, we used mobile advertising to inspire the clients to visit the physical stores.
RESULT :
The campaign was a complete success and ran through mobile advertising platform. results show that the users actively reacted to the mobile ad with a CTR of 17,78%, which is quite above the mobile campaign average. Furthermore, the discount coupon was downloaded more than 2300 times. On the one hand, this interactive campaign was a new way of communicating with the brand for the customers.
thus we can see the outcomes of digital marketing campaigns in various other brands like peter england,burberry ,lifestyle etc all make strong digital strategy  for sucess